Book Now
Grand Rewards
---
Grand Rewards is the exclusive lifestyle loyalty membership program of Hotel Grand Saigon offering our customers the best memorable experiences in 5-star hospitality, wine and dine, accommodation, spa, fitness, shopping and travel.
As a member of Grand Rewards, you are entitled to an amazing array of VIP privileges at Hotel Grand Saigon, Sky Lounge, Western & Asian restaurants, Bars & Rooftop Grand Lounge.
Grand Rewards offers three tiers of membership, selected membership tier will include a free night stay, free spa treatment, wine and dine occasion and much more.
We invite you to spend a few minutes to know more about our Grand Rewards loyalty program under this website. We look forward to welcoming you at Hotel Grand Saigon through Grand Rewards prestigious loyalty program.
CLASSIC MEMBER
(0 - 499 points/year)
SILVER MEMBER
(500 points/year)
GOLD MEMBER
(3000 points/year)
DIAMOND MEMBER
(6000 points/year)
Discount on Best Available Rate (B.A.R)
20%
25%
30%
Discount on Food & Beverage charge**
10%
10%
15%
Laundry Service*** (length of stay 05 nights and above)
20% off
2 items per day
(no accumulation)
4 items per day
(no accumulation)
Priority late check-out*
01:00 pm
01:00 pm
01:00 pm
Priority early check-in*
12:00 pm
12:00 pm
12:00 pm
Guaranteed Room
72 hours
48 hours
Upgrade to next category*
Welcome fruit
How to earn point (1 point per 25,000 dongs spent)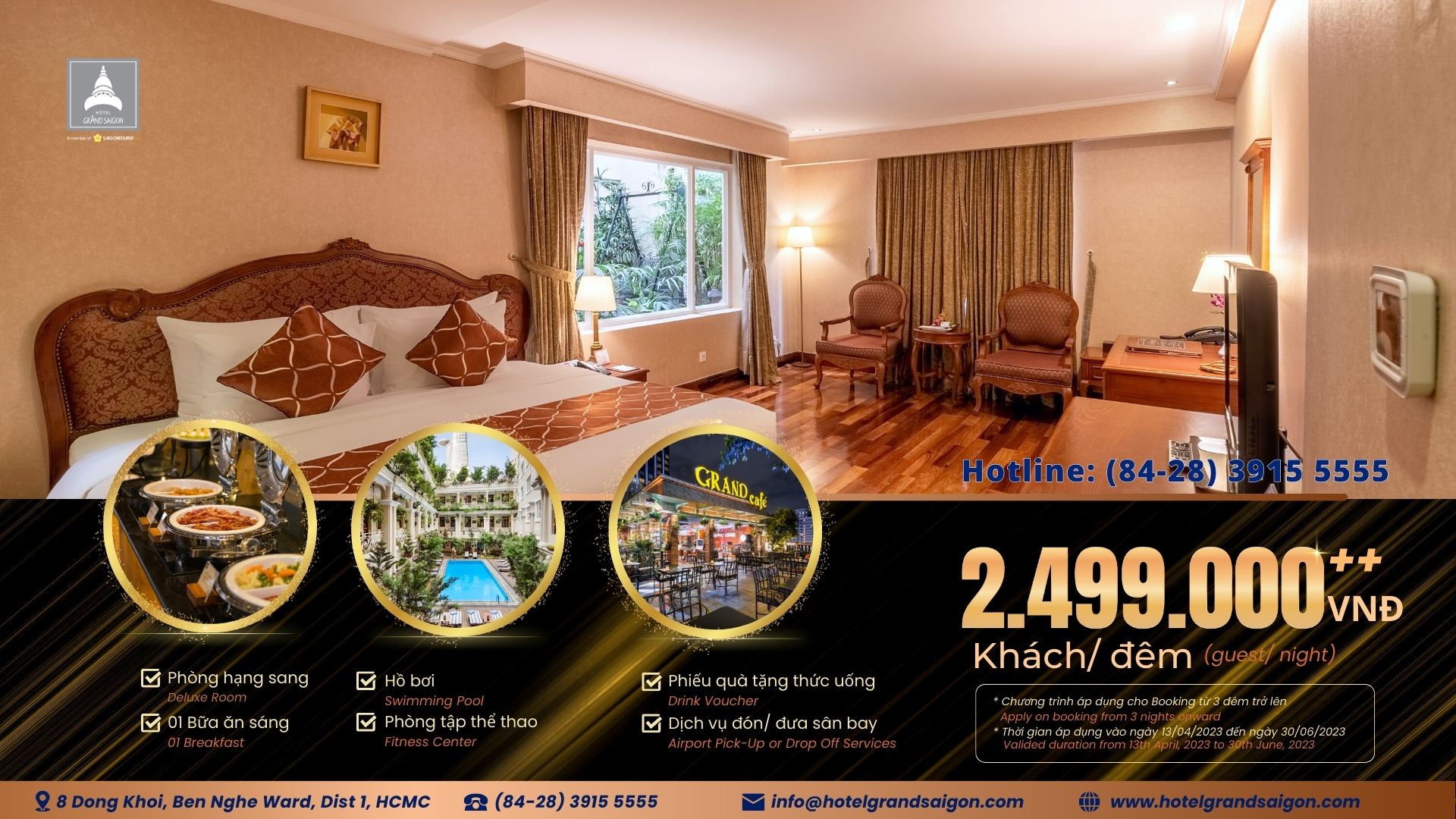 LOCATION
:
8 Dong Khoi Street, District 1, Ho Chi Minh City, Vietnam
84 28 39155555